Support is at your fingertips.
Connecting incarcerated individuals with the tools, people, and resources they need.


Available product and service options may vary by location.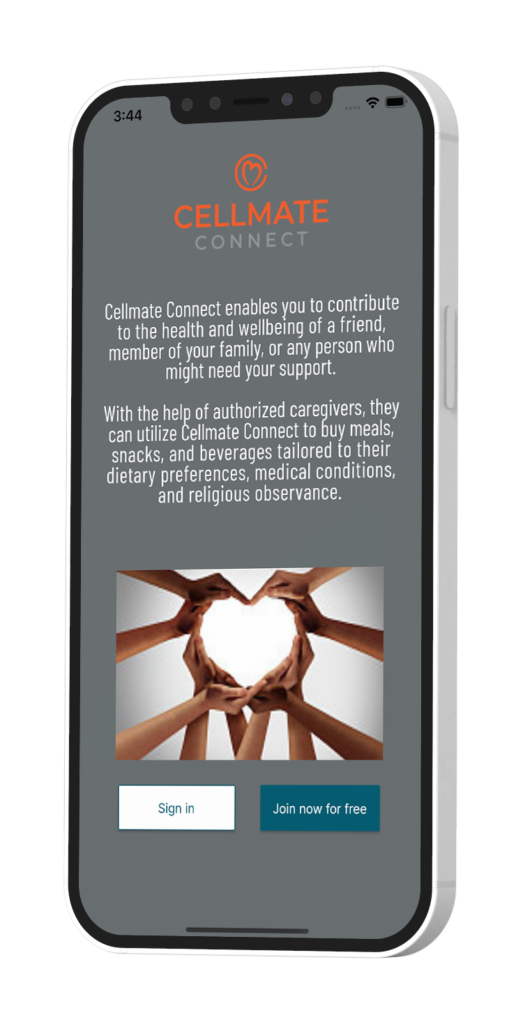 Every idea that is developed at our organization is centered on the value of well-being, connections, and making a difference. To help more individuals more rapidly is our goal.
Cellmate Connect™ applications assist consumer commerce in institutional settings to address unique demands, more often with an emphasis on the individual's well-being all under the supervision of the Kitchen.
Through a comprehensive set of administration-focused reports, our management solutions can offer insights into revenue-building areas, order trends, inventory management, customer feedback, and more, to assist you in making better financial decisions.
Kitchen staff can use mobile devices to efficiently and accurately fulfill orders, see updates in real-time to help feed newly admitted inmates and fulfill orders based on most recent status and location. Additionally, our system supports inventory, receiving, restocking, and daily reconciliation.
Through our Cellmate Connect™ Ordering program, inmates, their friends, family, and other people can place orders using their smartphones. By connecting to friends and family via the Cellmate Connect™ platform, the application gives an individual who is incarcerated the chance to request additional products. Officers may also self-order meals and snacks. Building a strong network of support and a sense of belonging is advantageous, in our opinion. It may be feasible to improve lives and keep one on a positive trajectory by creating these connections as a source of supportive encouragement whenever possible.
As we broaden our product offering, Cellmate Solutions™ recognizes the need of upholding a wholesome, nutritionally balanced diet as well as abiding by religious and medical dietary restrictions. We collaborate with institutions to monitor needs and provide meals and snacks that satisfy them. A large portion of our meals are prepared with the intention of minimizing the quantity of inventory required on-site and guaranteeing that caloric and nutritional requirements are constantly met.
Cellmate Solutions™ offers unique beverages supplied in a special pouch delivery method to provide a safe and practical option to enjoy in addition to conventionally edible goods. When warehousing may be necessary, this packaging also enables an extended shelf life.
Another area where we align brand loyalty across all inmate demands is in our Comfort from Home product line, which offers Natural Skincare to address specific needs while incarcerated.
Improve the effectiveness of the services you provide.
Schedule a meeting with us today!